Welcome To Graced Land East
Graced Land East - Executive Housing
Graced Land East is located 3 miles East of Borger, TX on Highway 152. We specialize in quiet country living with 3 bedroom 2 bath and 4 bedroom 4 1/2 bath apartments. We can also accommodate corporations with 10 bedroom 8 1/2 bath apartments. Our homes are available furnished or unfurnished with all water, gas and electric included in the rent. Housekeeping is provided weekly for furnished apartments and upon request for unfurnished.
List of Units we offer:
Furnished 3-Bedroom Apartment - 1350 sq. ft includes: 3 bedrooms, 2 baths, Kitchen/Living area, utility room with washer & dryer.
Furnished 4-Bedroom Apartment - 2300 sq. ft. includes: 4 bedrooms, 4 1/2 baths, kitchen, living area, utility room with washer & dryer
Furnished House - 5,000 Sq. ft includes: 10 bedrooms, 8 1/2 baths, 3 kitchen and living areas, 3 utility rooms with Washer and Dryers
All Units are NO SMOKING.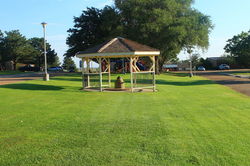 Park, Gazebo, Playground
Come visit us in person and get a feel for the quiet country life with close to town convenience.
Activity Center
In the Activity Center, located on the property, there are 3 exercise rooms with various types of equipment and weights. The full size basketball court is great for walking or jogging in bad weather or simply a game of basketball with your friends or family. Residents also have access to the Indoor heated pool, Spa and Sauna at the Borger Ambassador Inn located up the highway on the corner of Florida and 3rd Street.
Reunions ~ Retreats ~ Weddings ~ Meetings ~ Sports ~ Contact us for rates on the Event Centers